During World War I, Missouri was one of many states that created a defense organization to handle the duties of the National Guard, which had joined frontline military service. In her new book The Missouri Home Guard: Protecting the Home Front During World War IMissouri S&T historian Dr. Petra DeWitt examines the full role of this volunteer Home Guard, including their ability to uphold patriotism and reduce opposition to the war.
When the United States declared war on Germany in 1917, tasks such as providing induction military training for conscripts, protecting vital infrastructure from potential enemy activity, and maintaining law and order during labor activism needed to be addressed. The Home Guard was formed to fill these roles.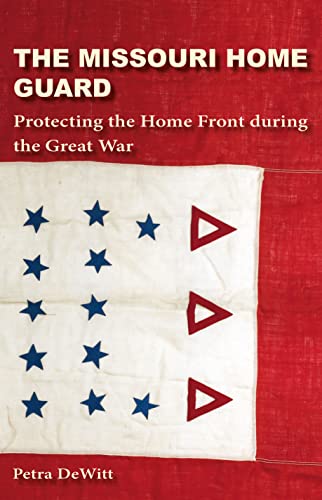 "There's not a single reason why men joined the Home Guard," says DeWitt, associate professor of history and political science at the Missouri S&T. "For some, it was simply patriotism, a willingness to do your best to help with the war effort. Others saw it in terms of masculinity and fulfilling the masculine function of protecting one's family and home from the enemy."
in the The Missouri Home Guard, Dewitt says that men who were too old or otherwise exempt from military service found purpose in helping with the war effort through the Home Guard while earning respect from the community. She also says German-American men may have joined for patriotic and obligatory reasons, to demonstrate loyalty to the US and to deflect any hints of disloyalty or pro-German sentiments. And black men may have viewed the service as a way to demand inclusion as citizens and recognition of their contributions to the war effort.
"For some, serving to divert attention may have felt like an obligation," says DeWitt. "Selective Service required men to fill out a registration form, but one could apply for exemption from military service because of family responsibilities or an occupation in essential industry. If they had been granted such an exception, they might have felt compelled to join the Home Guard to demonstrate their service so their loyalty would not be questioned."
DeWitt's book also examines the social issues that permeated the Home Guard. DeWitt says her research showed that gender and racial acceptance are barriers to participation.
"In newspaper reports, I found that African Americans' insistence on showing their patriotism through Home Guard membership reflected their activism at the time and that of the NAACP," says DeWitt. "At the same time, the push back of white leaders on the Missouri Defense Council and the state adjutant general also reflected the persistence of white opposition to racial equality."
Missouri women also attempted to support the war effort and the Home Guard, but met opposition.
"World War I was a pivotal moment for the suffrage movement," says DeWitt. "Women volunteered on the home front to support the war as Red Cross nurses, to raise funds for Liberty Loans and War Savings Stamp drives, and as members of the Land Army."
Despite limitations in military training, women's contribution to the war effort led to the passage of the Nineteenth Amendment, which gave women the right to vote, DeWitt says.
The Missouri Home Guard: Protecting the Home Front During World War I scheduled to be published by the University of Missouri Press in December 2022.
About the Missouri University of Science and Technology
Missouri University of Science and Technology (Missouri S&T) is a STEM-focused research university with over 7,000 students. Part of the University of Missouri's four-campus system and based in Rolla, Missouri, Missouri, S&T offers 101 degrees in 40 areas of study and is ranked among the top 10 universities in the nation for return on investment, according to Business Insider. S&T is also home to the Kummer Institute, made possible by a $300 million donation from Fred and June Kummer. For more information about Missouri S&T, visit www.mst.edu.