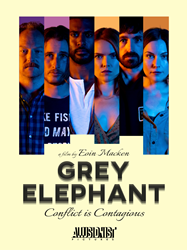 "Grey Elephant immediately feels nostalgic and homely as he looks back on an unprecedented human moment together, when this unstoppable force of nature changed all of our relationships forever." – Ammar Ramzi Mahmood, Producer

LOS ANGELES (PRWEB)
November 17, 2022
Allusionist Pictures and writer/director/star Eoin Macken today announced the US release of their COVID-era drama "Grey Elephant," available for purchase or rent on Amazon Prime beginning November 23.
The film stars Erin Richards, known as Barbara Kean in Gotham (FOX); Jill Flint, Bull (CBS), Royal Pains (USA); Mac Brandt, Dahmer (Netflix), Lovecraft Country (HBO). James Roch and Brendan Fehr of The Night Shift (NBC) complete the cast. Eoin Macken, best known for his roles in "La Brea" and "The Night Shift" (NBC) and "Nightflyers" (SYFY), wrote and directed "Grey Elephant," in which he also stars.
Gray Elephant dryly observes the social and emotional complexities of two couples meeting for the first time after months of lockdown due to the coronavirus pandemic. It tells the story of married couple Lucy (Flint) and James (Brandt) who decide to host a dinner party for James' best friend Will (Lemon) and his new girlfriend Alexa (Richards). Dinner quickly brings out both couples' pent-up fears, frustrations, desires and insecurities, which escalate explosively when an unexpected wild card is added.
"This film was shot at the height of the COVID pandemic, in the midst of what has been an enigmatic year for everyone. We realized that while this is a specific time in history and many people wanted to capture this moment, we needed to focus our story on the ongoing complexities of human experience," says Eoin Macken. "It's remarkable that I was able to work with Allusionist Pictures to create such a delicate, beautiful film, especially during COVID. I'm thrilled that they managed to make this film safe."
Allusionist has partnered with Macken to finance and produce the film. "Eoin's story gave me a sense of comfort and acceptance that I needed to emerge from a difficult lockdown. The story resonates across borders, social barriers and languages; Anyone could find solace in realizing it's not just them! That we all went through this together," says Meriam Alrashid, executive producer and co-founder of Allusionist.
Ammar Mahmood, co-founder of Allusionist Pictures, emphasizes this theme: "Although COVID was the catalyst for the conflict these characters have, Eoin's script failed to transform the virus into a sinister unseen antagonist in an over-the-top thriller. Instead, Gray Elephant feels instantly nostalgic and connected to home, looking back to an unprecedented shared human moment when this unstoppable force of nature changed all of our relationships forever."
Gray Elephant premieres on November 23, 2022 in the US on Amazon Prime.
About EOIN MACKEN

Macken is known for starring in the hit NBC series La Brea and The Nightshift, the Netflix SyFy adaptation of George RR Martin's Nightflyers, and the cult BBC drama Merlin. He can be seen in the Millennium/Lionsgate thriller Till Death with Megan Fox. Macken also recently directed the film Here Are The Young Men, starring Anya Taylor-Joy, Dean Charles Chapman and Travis Fimmel, which was released in early 2021 after completing its festival cycle, which included the Raindance Film Festival in Britain ended. He previously directed the highest-rated season 4 episode of The Night Shift for NBC and the cult indie feature Leopard starring himself, Tom Hopper and Jack Reynor.
About ALLUSIONIST IMAGERY

Allusionist Pictures is an independent entertainment development and production company founded by Meriam Alrashid and Ammar Ramzi Mahmood. Allusionist Pictures is a company dedicated to keeping entertainment honest, with compelling, socially relevant stories that focus on diverse, relatable human perspectives. Allusionist is best known for his recent films: The Kindergarten Teacher, starring Maggie Gyllenhall, Skin, starring Jamie Bell, Danielle Macdonald, Vera Farmiga and Bill Camp, and Driveways, starring the late Brian Dennehey and Hong Chau.
Share the article on social media or via email: